GO-TO-MARKET | TECK
Sustainable
Tech
McMillan helps one of the world's leading resources
companies become synonymous with sustainability.
Challenge
Teck is among the most progressive and respected mining companies in the world, recognized internationally as the top mining company on Dow's sustainability index, the top company on Sustainalytics' rankings, and one of the top five companies on the MSEI. And yet, because of the industry it works in, Teck faces an uphill battle when it comes to managing its reputation. The company wanted to show the world that it's leading the resources industry into a sustainable future. But would anyone listen?
Insight
Knowing that the minerals and metals they mine are critical to the high-tech solutions needed to get to net-zero carbon emissions – wind turbines and electric motors for example – McM realized there was an opportunity to emphasize how Teck is more than a typical mining company: it's a company that thinks and acts like a tech company, where innovation is key to meeting sustainability goals.
Solution
We wanted to differentiate Teck in a way that is natural, credible, and, most importantly, could never be adopted by anyone else. And lucky for us, the perfect double entendre was right there in front of our eyes. Sustainable tech = Sustainable Teck.
Creative
Sustainable Teck is simple yet specific, capturing a wide array of ideas and key messages in a simple and compelling two-word construction.
By leveraging the play on words – Tech/Teck – it not only reinforces the master brand in the context of sustainability but in the context of technological innovation, too. And it does this all in a way that is totally unique, totally ownable.
This is more than just a sustainability campaign – it's sustaining Teck's brand value. 
Sustainable Teck
The core idea of Sustainable Teck launched across multiple digital platforms.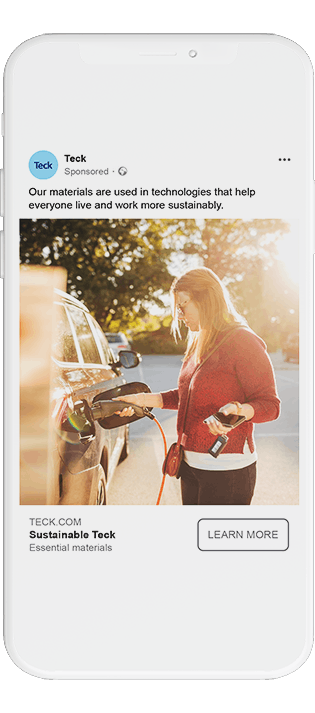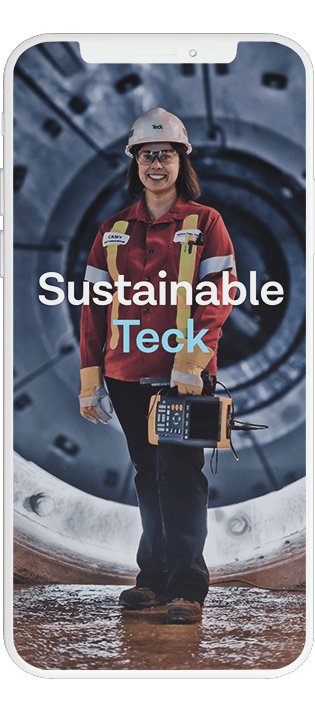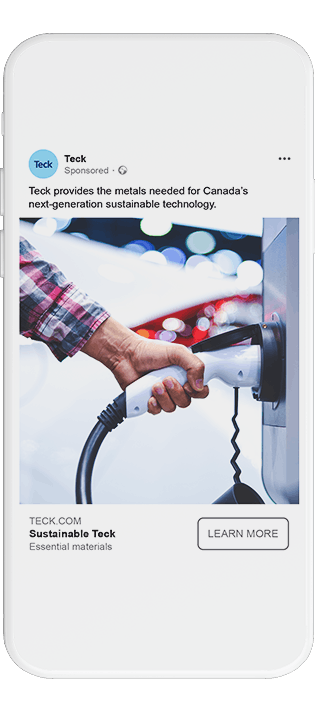 The flexibility of the idea was extended to allow the campaign to hit on specific sustainability and related topics.


Results
Analytics showed increased overall visibility and engagement among key audiences, with the Google Display Network and LinkedIn being the most effective channels for reaching government.
The campaign outperformed the previous sustainability campaign in both engagement and efficiency:
3x
click-through rate (CTR) Twitter, Facebook, and Instagram.
50%
reduction in Cost-per-click (CPC) across Twitter, Facebook/Instagram, and the Google Display Network platforms.   
The campaign's performance increased dramatically over the campaign period as we were able to refine the creative and add more video assets.